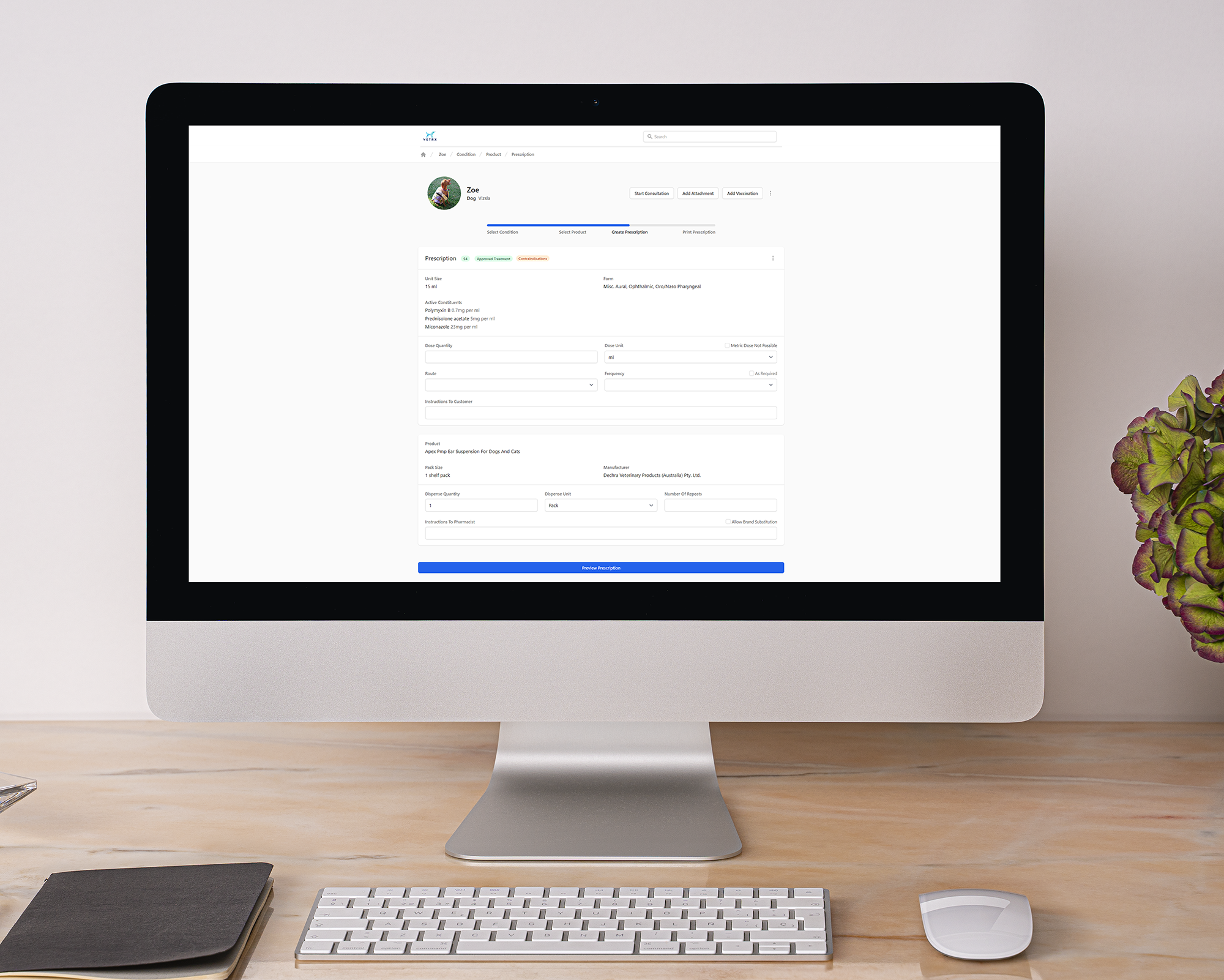 How VetRx Will Benefit You
VetRx will revolutionise the way you prescribe.
VetRx is designed to be used alongside your existing practice management software so that prescription information can be shared between the client, the pharmacist and yourself. It's obvious why pharmacists and clients love electronic prescriptions, but lets explore why VetRx is not a "nice-to-have", but a "must-have" for your practice.
No more prescription fraud
VetRx generates immutable prescriptions. This means that there is no way of a customer duplicating the prescription and having it dispensed by multiple pharmacies. It also means that no-one can edit the quantity for dispensing. What you prescribe, is what is dispensed. Period.
Regulatory compliant prescriptions
Do you know what information is required on a prescription? Would you be surprised if we told you that over 95% of prescriptions received at an animal pharmacy did not strictly meet regulatory requirements? VetRx will take responsibility and ensure that all prescriptions generated by the system will meet your State's regulatory requirements.
The most comprehensive Australian medication database
Vets do a great job of remembering what veterinary medicines are approved for use in Australia. They also have a good idea regarding what medicines are available from compounding pharmacies. What vets often struggle with, is remembering the 40,000 plus TGA approved medicines that are available from a pharmacy (and don't necessarily need to be compounded). VetRx contains a database of all the APVMA and TGA registered medicines that you can search whilst prescribing. Save your customers money and prescribe quality controlled human medicines (rather than an extemporaneous preparation) where a registered veterinary medicine does not exist.
Better customer engagement through prescriptions
Embrace the fact that your practice offers prescriptions and use it to improve the quality of care that your patients receive. Script expiry notifications are automatically generated, encouraging your clients to book in for another consultation. Customers have the ability to record notes in their pet's database, so they can raise medication-related concerns with you when it is time for a check-up.
No more paper prescriptions
VetRx is actively working with the States to allow electronic prescriptions to be the legal version of the prescription (instead of the paper copy that is signed and mailed to the pharmacy). Until then, VetRx will still facilitate electronic prescription exchange, but that pesky piece of paper still needs to be received by the dispensing pharmacy.
Cross clinic medication history
VetRx acts as a real time prescription monitoring system to prevent "doctor-shopping". Whenever a veterinarian prescribes for an animal, VetRx will display the prescribing history for that animal and the client's other pets.
Vaccine Passport
VetRx allows you to record the vaccination history for your patients (even retrospectively if needed). Reminders can be generated for when a booster is next due, and the client can access their pet's vaccination history anytime, anywhere. If you are providing a consultation for a new client, you can validate the animal's vaccination status ahead of time.
Other benefits include:
Ability to prescribe in the field using an iPad or mobile devices.
Prescribe medicines for herds / production animals.
Remote collaboration with other vets and access to shared resources.
Direct communication channels with dispensing pharmacists.
Electronic prescribing is such a paradigm shift for veterinarians that the benefits cannot be appreciated until it is used first-hand. Please contact us if you would like a demonstration of VetRx in your practice.
How Does VetRx Work?